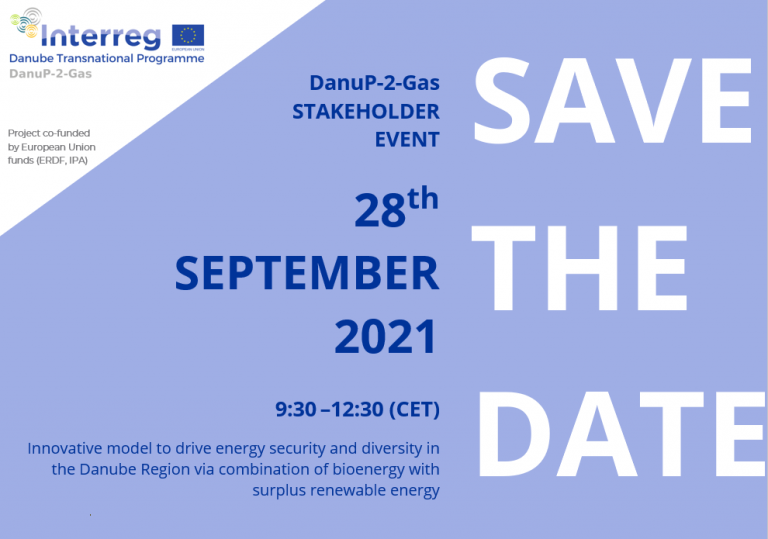 SAVE THE DATE September 28th, 2021, 9:30 AM (CET)
The Danube region has huge potential for sustainable production and storage of renewable energy, but this strategic region has been and still is highly dependent on energy imports, while energy efficiency, diversity and renewable energy sources are very low.
In line with the EU's 2030 climate targets and the "European Strategy for the Danube Region", DanuP-2-Gas will promote transnational energy planning for a sustainable future in the Danube Region by developing strategies for renewable energy production and storage, linking biomass, electricity and gas sectors.
To learn more about this topic, we INVITE you to our hybrid event, which you can attend either ONLINE or IN PERSON in Zagreb.
Registration for the event: https://docs.google.com/forms/d/e/1FAIpQLSemHvaYMWXqtoP3kJnUuwVFFCiQrcR6f22m5j5gc6FtqOz40w/viewform
Agenda:
September 28, 2021
09.30 – 09.55 Registration and welcome coffee / technical issues resolving
09.55 – 10.00 A short welcome and introduction to the event
Prof. Mario Vašak, University of Zagreb Faculty of Electrical Engineering and Computing
10.00 – 10.35 DanuP-2-Gas – Project Status, Updates and Perspectives for Stakeholders
Astrid Heindel, Technology Centre Energy – University of Applied Sciences Landshut

10.35 – 11.00 Biomass Assessment, Renewables Potential, Infrastructure, Policy and Legal
Framework in Bosnia and Herzegovina
Mile Međugorac, JP Elektroprivreda Hrvatske Zajednice Herceg Bosne d.d. Mostar
11.00 – 11.25 Potentials for Renewable Hydrogen Production in Serbia
Dejan Stojadinović, Regional Agency for Socio-Economic Development–Banat Ltd
11.25 – 11.50 The Role of Croatian Energy Market Operator in Supporting Renewable Energy in
Croatia – Experiences and Perspectives
Nataša Putak, Croatian Energy Market Operator
11.50 – 12.15 Repowering of the First Wind Farm in Croatia with Photovoltaics and Hydrogen
Production Tonći Panza, Adria Wind Power
12.15 – 12.40 Possibilities and Perspectives of Biomass, Electricity and Gas Sectors Coupling in
Croatia via Power-to-gas Hubs
Prof. Neven Duić, International Centre for Sustainable Development of Energy, Water and
Environment Systems
12.40 – 14.00 Networking lunch for on-site participants