Technical requirements in e-bus deployment
The Hamburg interregional learning event of the eBussed Interreg Europe project was held online on 20 January 2021. On this meeting, besides the project partners, representatives of stakeholder groups concerned in e-bus production and operation also attended.
The focus of the webinar was on the experiences of e-bus deployment. The seminar was opened with Falko Droßmann, chief executive for the Borough of Hamburg- Mitte (DE). After the short introduction of the city of Hamburg itself, the audience watched a short touristic video about Hamburg.
The first presenter was Sami Ojamo who is managing director of VDL Bus & Coach (FI). He spoke about the procurement and challenges of electric buses. He highlighted in the presentation the most important viewpoints for his company just as:
low operational costs,
efficiency,
high performance,
innovation.

Source: https://www.vdlbuscoach.com/en
The system approach was illustrated by VDL Bus & Coach's procurement policy which has the main stages as follows:
analyses,
calculation,
implementation,
testing and daily operation.
The next program was a video about the e-bus depo in Hamburg- Bergedorf and the experiences of the employees.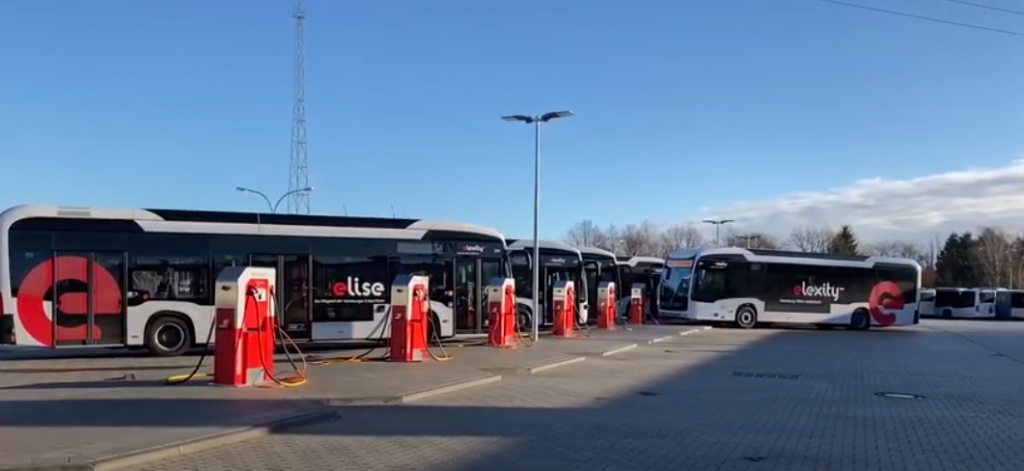 Source: https://www.youtube.com/watch?v=jBA1nvhRBpg&feature=youtu.be&ab_channel=BezirksamtHamburg-Mitte
The e-mobility expert from CEA Consulting Bt. (HU), János Szász presented the new technological developments in e-bus production. He emphasized the main aims and directions which define the e-bus ecosystem. On the other hand, he mentioned the obstacles and the ways of tackling with them, also pointed to the need of overcoming the fake news. In his opinion, a serious challenge is the paradox that we need fresh information however everything is changing very quickly, and we currently have to face with the pandemic situation, too.
Following the presentation of the two speakers, the participants were divided into two groups (based on their interest) and two workshops were held. The two themes addressed were the challenges and possible solutions and the regionally specific operational and technical requirements.
During the panel discussion organised after the two workshops, the previous lecturers and Dr. Markus Dietmannsberger, general project manager at Electric Buses, Hamburger Hochbahn AG (DE) summarized the results of the group discussions and answered the questions raised.
Speakers agreed on the importance of the communication during the transition from traditional buses to e-bus fleets. Similarly the need to take into consideration the regional particularities for e-bus procurement such as topography and climate were debated.
The next learning event of the project is organised by the South Transdanubian Regional Innovation Agency Nonprofit Ltd. which will take place in March 2021 and will focus on the user interface and the survey results.
The eBussed project is co-financed by the European Regional Development Fund and Hungary.