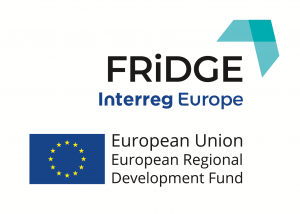 On 3 November, 2020, Tolna County Development Agency (hereinafter: TCDA) organized its first stakeholder meeting within the framework of the FRiDGE Interreg Europe project. The meeting was held online, for which the South Transdanubian Regional Innovation Agency provided the interface.
The aim of the professional event was to present the project to stakeholders and policy representatives, as well as to present good practices from abroad that have already been identified. The managing director of TCDA, Mr. Balázs Kiss, opened the meeting and after that he presented the main data of the project. FRiDGE started on 1 August 2019 with six partners patricipating in the implementation under the leadership of TCDA:
TCDA Tolna County Development Agency Nonprofit Public Benefit Ltd. – Hungary

Harghita County Council – Romania

University of Western Macedonia – Greece

Regional Council of South Ostrobothnia – Finland

Competence Center for Nutrition – Bayern, Germany

Economic Council of East-Flanders – Belgium
The project's primary objectives include: increasing the population retention capacity of the countryside, improving competitiveness, technological development of SMEs and supporting innovation efforts, research development in this sector, and the implementation of sustainable food supply. The partners of project identified the key players in the support system and the aspects of the evaluations.
At the end of his presentation, Mr. Balázs Kiss spoke about regional specificities and presented the FRiDGE study on the challenges facing SMEs in the food industry. This study details current negative trends, economic difficulties, barriers, and key development opportunities in this area.
In the second half of the event, Ms. Veronika Szabó, the leading project manager of TCDA, gave a presentation on the two good practices already learned abroad. The first project is the Trilogy of Platforms, which is about building sustainable food chains and developing the local food industry. As part of this, the Bavarian State Ministry of Food, Agriculture and Forestry has set up three web interfaces for networking, market access and common market.
The other good practice comes from Belgium. The Food Pilot, which is an Applied Research and Analysis Center in Ghent where food processing companies can test, optimize and improve their products and production processes.
The event closed with a consultation which highlights on the major economic impacts of the Coronavirus in the food industry.
The FRiDGE project is co-financed by the European Regional Development Fund and Hungary.