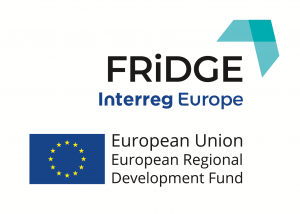 The third FRIDGE Joint Workshop will be held online on the 18th of November 2020 from 9:00 am to 12:00 am (CET). In the Workshop the FRIDGE partners will present Good Practices dealing with market reach of local food products. A special focus will also be directed for Good Practices from Upper Franconia, Germany where the physical event was originally supposed to take place.
Examples of good practices to be presented:
Trilogy of Platforms from State of Bavaria, Germany
Völgység Kincse Social Cooperative from Tolna County, Hungary
Szekler Product Trademark from Harghita County, Romania
Food Province Label from South Ostrobothnia, Finland
Agrifood partnership of Western Macedonia, Greece
Tasteful East Flanders from East-Flanders, Belgium 
The results and conclusions of a questionnaire-based survey among local food industry SMEs will be also be presented. A roundtable discussion about actions taken against the economic effects of COVID-19 will also take place, we are interested in hearing your experiences!
The detailed programme with further information will be published later on this website.
The FRIDGE partners welcome you all to join the workshop and listen more on the Good Practices identified in the project!
The FRiDGE project is co-financed by the European Regional Development Fund and Hungary
Registration for the event is open until 16th of November.